Jutoh News
See also Jutoh Release Notes for detailed information about new releases.
Jutoh 2 Preview ready for download
March 23th, 2013

If you're feeling adventurous, you can now try out the Jutoh 2 preview release. The main feature added by Jutoh 2 is the ability to create fixed layout ebooks, something that a lot of people have requested. We'll be releasing Jutoh 2 officially later in the year.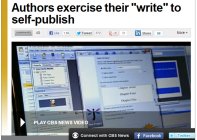 Jutoh on CBS news!
December 13th, 2012

CBS's 'Sunday Morning' programme did a piece on self-publishing on 9th December; at 1 minute 25s there are some shots of Jutoh helping the best-selling novelist Stephanie Bond convert her books to Kindle format. Cool!
Jutoh 1.60
November 24th, 2012

In 1.60, we say goodbye to Windows 2000 support since we are now using a newer compiler that doesn't support it - let us know if that is a problem for you. But W2K is now over 12 years and I think most people have upgraded. Version 1.60b0 is the last with support for Windows 2000, and can still be downloaded here

1.60 adds a new configuration property, "Use generic font names", which when disabled together with "Use font names", will remove all font names from the ebook file. For Kindle users, this means that fonts can be customised, which is not the case when font names have been specified in the book.

Several DOCX import glitches have been fixed, and a couple of Mac and Ubuntu bugs fixed. For more details, please see What's New.
Jutoh 1.57 and the new formatting palette
October 3rd, 2012

Good news for style enthusiasts - Jutoh now has a formatting palette that has the capabilities of the current editing toolbar and much more. The usual tools are on the Tools tab, and the available styles are shown in the Styles tab. Jutoh describes the style(s) at the cursor to make it much easier to see what formatting has been applied to your document, and you can easily apply and edit styles. Finally, the Favourites tab shows all your favourite commands, styles and symbols, ready to be applied with a double-click.

There are many more features and bug fixes in Jutoh 1.57, including an iBooks image optimization, Epub 3 output fixes, provision of the latest version EpubCheck, control of some Jutoh warnings in Advanced Settings, help window font customisation persistence, and more. Please see What's New for details.
Jutoh 1.56 and DOCX import
August 22nd, 2012

At last, you can import directly from Microsoft Word XML (DOCX) files. If you have an older version of Word, you can download the Microsoft Office Compatibility Pack for Word, Excel, and PowerPoint File Formats which adds the ability to open and save DOCX files.

There are many more features and bug fixes in Jutoh 1.56, including improved Save As behaviour, cover design extraction after DOCX/ODT import, the ability to insert SVG images, a justify toolbar button, new Document Cleanup colour removal options, and much more. Please see What's New for details.
Jutoh 1.53 and Jutoh Plus
April 21st, 2012

We're very pleased to announce Jutoh Plus, a new edition of Jutoh especially for publishers who have to deal with a large number of ebooks. The scripting facility will help import, create and modify ebooks without interacting with the Jutoh GUI. You can upgrade to Jutoh Plus if this meets your needs, and there's a new ebook documenting Jutoh Plus features: A Guide to Jutoh Plus.

Jutoh 1.53 is a free update that brings further benefits, including: a Copy Documents command to speed up copying between projects; top and bottom margin configuration for Epub; a configuration option for suppressing hyphenation for specified styles; further compilation warnings; a French translation thanks to French translation by Véran Desjardins; and some bug fixes. See What's New for details.

We've also added some notes on Installing Kindlegen and Kindle Previewer, since this can sometimes be the cause of frustration.
A new Jutoh for Kindle guide
January 4th, 2012

Happy New Year to all! Jon Donahue has written an excellent Formatting for Kindle. This concise guide covers the basic aspects of formatting and shows off what Jutoh can do. Highly recommended.

Jutoh is now at version 1.43, with new features such as the ability to show hidden URLs in generated ODT files, the option to open a file as read-only to stop accidental edits, and various new configuration properties for fine-tuning output.
1.38 release, and a new book
October 26th, 2011

We are very pleased to announce Jutoh 1.38, with new features including navigation controls for the HTML format, so you can add your book to your web site. You can see this in action here. Other features include assistance for installing Kindlegen, and better error handling (most errors can be diagnosed within Jutoh now). For a full list of changes in this release, please see What's New.
We also excited to announce a free ebook that should help you get the most out of Jutoh: Creating Great Ebooks Using Jutoh. It's packed with detailed advice on Jutoh features, how to troubleshoot problems with your book, how to install and configure Jutoh, and how to market your book once you've got it finished. Feel free to distribute this book to your friends and colleagures. The Jutoh book is of course written entirely within Jutoh, so it serves as an example of what's possible.
Jutoh on the CHIP Magazine cover disk
October 10th, 2011

The November edition of CHIP Magazine carries Jutoh on its cover DVD, so we hope that with a circulation of 420,000 per month, this introduces Jutoh to a whole new set of authors.
1.17 release
September 23rd, 2010

Jutoh can now manage footnotes and alphabetical index entries - you can import these from an ODT file or create them within Jutoh. A new Update Book command makes it easy to update your table of contents, endnotes and index all in one go, and non-fiction authors in particular are going to save a lot of time creating these pages. Also in this release, we have horizontal rules, easy Smashwords support through a ready-made configuration, better progress dialogs, improvements in import, and various other small changes. I hope you like the new features! For a full list of changes, please see What's New.
1.12 release
August 17th, 2010

I know it's only been a week since the last update, but 1.12 has loads of good stuff worth the upgrade. I'm particularly pleased with the new Epub source viewer, which can be launched after you've found errors in your Epub using EpubCheck. You can see the errors in context which should speed up diagnosis of EpubCheck's rather obscure messages. There are performance improvements and various bug fixes, and importing bookmarks and links now works in ODT. For a full list of changes, please see What's New.
1.11 release
August 10th, 2010

In Version 1.11, importing from ODT and HTML has been improved, including image resizing on import, better style naming, and better HTML link import. Various other bugs have been fixed; for a full list of changes, please see What's New.

Jutoh reviewed in the Australian Financial Review
July 27th, 2010

Peter Moon of the Australian Financial Review has written a nice piece about Jutoh. You need a subscription to read the article, but here's my favourite bit:

"We hit the Google trail in search of e-book enlightenment. If it wasn't for Jutoh, we'd still be in the dark."

It's good to hear about Jutoh helping people to get started with epublishing. Do let us know about your own experiences!
1.09 release
July 20th, 2010

Version 1.09 sees a few new features and some important bug fixes to link functionality. If you manually added page links in Jutoh 1.08, the link is incorrectly stored in the page, causing problems in the resulting book, but in 1.09 you can correct old links simply by clicking on them and pressing OK. It's now much easier to change or remove a page link, and linked text will take the current "Internet link" character style attributes.

We've also added custom metadata, for those with more advanced metadata needs, plus some customisations for the Epub spine section.
New mailing list
June 21st, 2010

There's now a mailing list, http://groups.yahoo.com/group/anthemion-writingtools, for asking technical support questions and sharing information about Jutoh. For details about how to subscribe, see the Support page.
1.07 release
June 21st, 2010

We've made a lot of improvements to Version 1.07, include the ability to create your own links between sections (for example, custom contents pages), and splitting a file by title as well as style. A number of bugs affecting epubcheck verification have fixed, and HTML import has been improved. See What's New for the full list of changes.
First official release
May 13th, 2010

Version 1.01 is our first official release, with an introductory pricing offer until June 15th. We enjoyed getting this far, and we hope Jutoh is a helpful addition to the world of Epub.
---
© 2013 Anthemion Software Ltd.