Jutoh News
Read more about the new features in Jutoh 3. See also older news.
Version 3.08, March 29th, 2021
This release fixes some bugs, and enables Epub by default in new Kindle configurations in line with Amazon's changed requirements. Import and generation of styles with 'negated' attributes such as 'No Capitals' has been improved, and the Clear Direct Formatting command now only removes direct formatting from text spans insead of removing the whole style (directly formatted or not).
The Word Count dialog has been improved to show the word count for a hierarchy of documents if selected, and the Insert Citation dialog now has sortable columns.
For further details, please see What's New.
Version 3.07, March 4th, 2021
This release has various bug fixes, including for a crash when adding non-section documents under Content, a crash on undo/redo for project organizer operations, the status line word count not updating when selecting text, a couple of problems with using Find with footnotes, and double-finding when using Enter to continue finding on Mac.
The release also adds a Documents to exclude setting to Project Properties/Options to allow exclusion of documents from spelling, and a property Remove space before footnotes in Remove spaces, in the Formatting Cleanup dialog.
For details about changes, please see What's New.
Version 3.05, February 13th, 2021
This release has some new features, including:
Quick navigation controls in the Inspector: a thumbwheel lets you scroll through the whole project, instead of having to go to each document and scroll through it, and a gauge shows a clickable map of all documents. This can be switched off or the thumbwheel behaviour adjusted via the Options dialog available on the Inspector menu.
Jutoh can now paste from HTML or (on Windows) Microsoft Word, thereby supporting pasting formatted text from most other applications.
A new Edit | Paste Special command lets you choose what format to paste from the clipboard.
The width of the caret (text editor cursor) can be customized in Advanced Preferences.
The Find dialog's search text is automatically filled in from the current text selection, as an option.
EpubCheck has been updated to version 4.2.4.
There are various bug fixes, including fixing import of marked-up text in DOCX files, and fixing keyword substitution in Epub/Mobi output.
For details about changes, please see What's New.
Version 3.04, December 23rd, 2020
This release corrects a couple of bugs in the storyboard document.
For details about changes, please see What's New.
Version 3.03, December 17th, 2020
This release supports Big Sur (macOS 11) and ARM Macs! Jutoh can now take advantage of Apple's exciting new M1-based machines, and also supports dark mode.
Other highlights of this release include: big speedup in table cell style edits; ability to exclude documents from the word count; image reimport support for fixed layout documents; bug fixes and other improvements in the Explorer tab; double-click a column label in a storyboard to insert a new column. There are various other bug fixes and small improvements.
For details about changes, please see What's New.
Support for Big Sur in beta, December 3rd 2020
As you may know, Apple have released some pretty interesting ARM-based Macs recently, running Big Sur (macOS 11). Big Sur and ARM support has required some retooling of Jutoh, but a beta is now available on the Download page for intrepid Jutoh customers to download and try out. It's a universal binary, so will run on Mojave and higher, Intel or ARM (natively). This beta also adds dark mode support on Mac.
All feedback on the beta is appreciated!
New mailing list, October 18th, 2020
Since Yahoo! Groups are going away in December 2020, we now have a Google mailing list. Please subscribe to this if you wish, or browse the group's web page:
https://groups.google.com/g/anthemion-jutoh
Send messages using the address:
anthemion-jutoh@googlegroups.com
You can subscribe by sending a message to:
anthemion-jutoh+subscribe@googlegroups.com
You can unsubscribe by sending a message to:
anthemion-jutoh+unsubscribe@googlegroups.com
Version 3.02, October 18th, 2020
This release has bug fixes and some adaptations for Amazon's new advice to use Epub files instead of Mobi. Jutoh will warn you that Kindle Previewer 3 may nag you about using Epub instead of Mobi files, and offers to change the configuration or global Kindle generation setting.
Some accessibility options have been aded to the advanced preferences to show larger text in dialogs (Mac only) and separately, larger text in lists such as the Inspector.
For details about changes, please see What's New.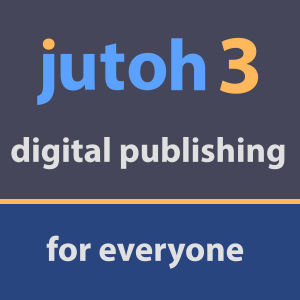 Version 3.00, September 24th, 2020
Welcome to the first public release of Jutoh 3, with an improved user interface and many new features such as the storyboard; new Inspector modes for spelling, custom checking and formatting; writing prompt; the ebook 'Fiction: The Facts'; inspirational quotations, and more.