Feedback
Bold emphasis has been added to key words and phrases for readability.
"Dear Jutoh - You've probably saved my life. I've been going through ebook publishing options for weeks (months?) trying to find one that made sense and had all the features I wanted. Somehow I found Jutoh just as I was giving up, and the moment I tried it I knew it made sense to me. I mean holy **** - boxes, tables; built in editing - total control over everything! My god, people, this is insane! I still cannot believe that I've found the one piece of software that will allow me to transform my scriptwriting textbook into reality with ease! I'm breathless. I do web design as a side gig and have been doing tech support for decades on hardware and software - I know when something works. This does. Oh, mama, does it. Thank you, thank you, thank you!"
Mark S.
"24 hrs ago I had never heard of your software. Today you are my hero! I was having difficulty formatting my Kindle Book. I was banging my head against my desk. Then I found your software. Boom! Done."
G. Brickner
"I continue to be amazed by your level of response. I've been in the software business for over a half of a century, including the development and support of our own software. I believe the support you have provided places you at the top of your profession. Of course, it helps to be supporting software that operates so reliably."
P. Duffy
"I've been looking for a decent eBook editor, but most won't work for me because they lack important features that I need. Jutoh is the most full-featured editor I've found. It does everything I need it to do, and plenty more."
Peter Kent, author of SEO for Dummies and Complete Idiot's Guide to the Internet
"Thanks for such a fast reply, Julian! I'd also like to take the chance to thank you so much for such amazing software. I can't tell you the difficulty I had with Scrivener. I've been telling everyone I know to use Jutoh."
Andrew D.
"Thank you so much for your patience and your support! You saved my day! I would NEVER have found this out on my own. I wish all companies offer such an awsome customer service!"
Jana K.
"The software really is very, very good - your work? Or a team? It's so nice, in these days of geek jargon, to come to something logical."
Brian McNeill, founder of Battlefield Band
"As both the consumer and producer of software, as both a programmer of words and a programmer of code, I give Jutoh and Julian my highest endorsement for being beautiful products that are reliable, effective, elegant, deep, economical, trustworthy, and justifiably confident in their superb performance. It sounds funny to endorse both human and machine software in the same sentence, but I guess that's where we're headed!"
Lincoln Stoller, PhD, CHt, www.mindstrengthbalance.com
"This software is absolutely amazing, I just can't stop talking about it! I simply imported my Word file and ran some clean-up options and instantly I got my kindle book formatted; talk about hassle free. Jutoh is feature rich and this is coming from someone who used Scrivener and Calibre previously (no disrespect to them). The help files are top notch and every time I emailed Jutoh they responded within 24 hours of my request. With that level of service and a brilliant product how can I not recommend Jutoh!"
Dane A. Miller, author of "What is the Woman Saying: Lessons Learnt from Biblical Women"
"Jutoh's ability to handle very large, complex documents cleanly and without scrambling them is the main reason for my huge respect for Julian's prowess as a programmer. He's managed to succeed single-handed where large teams of programmers (for the likes of Word, WordPerfect, LibreOffice and numerous other document-processing programs) have continued to fail."
Rob Hills
"Thanks for such a great program. One of the best software investments we've made in the last six years, seriously."
Jason Aydelotte, Grey Gecko Press
"Dear Jutoh people: Thank you a thousand for your outstanding and invaluable software. Years ago, I was converting books (my author clients' text and images) from .txt files to hand-coded html and thence to .mobi and .epub files for mobile devices. It was a long and tedious (and expensive for the clients) process, books of 200+ print pages with numerous images, tables, bulleted lists, etc. Now, though, I import book manuscripts from .docx to jutoh - and I'm very grateful to you for the fantastic tools provided by your jutoh software. THANK YOU SO MUCH !!!!!"
Kelly Andersson
"Hi Julian, just a short note to let you know how much I enjoy working with Jutoh! It is really a great program and with the updates it gets better and better. Thank you!"
Dorothee
"Just writing once again to say that I can't thank you enough for your software. I've found that I can generate a good ODT file with nice endnotes which can then import very nicely into a dtp program like PagePlus and this works well as your program removes a lot of 'gunk' which otherwise would be impossible to remove. So thanks again!"
Paul H.
"I'm just elated that I have a clear path to proceed with my work now, and I am very appreciative of the time you spent helping me. By the way, since the start, I have been very impressed with how clearly structured and documented your software is with so much obvious effort to make its use as easy as possible. My best wishes to you for your continued and increasing success with your product!"
Lawrence Didona
"Jutoh came to the rescue in an hour of need. I had been struggling with formatting my ebook correctly in Microsoft Word and remembered that Jutoh had been recommended to me. After purchasing Jutoh my ebook was transformed into clearly defined chapters and formatted to meet the Amazon requirements. The software was easy to download and use and I intend to use it for my up and coming new ebook titles. Julian Smart was incredibly helpful when I contacted him directly. If you haven't downloaded Jutoh yet then now is the time. I can't recommend it highly enough!"
Ruth Seodi
"BTW, can I just say how much I love, love, LOVE Jutoh? Love it. Owe my self-publishing career to it. LOVE it."
Stephanie Bond
"Hello Julian, I have had fun today with Jutoh, and have just bought the license. So far it's made eformatting a breeze, so I am breathing a huge sigh of relief. Thanks so much for your software! It's so good to finally find a piece of software that is logical and easy to use."
Jo Chumas
"First, I want to thank you for this superb piece of software. I have been agonizing over trying to get my book from Word to EPub for over a week, editing CSS, HTML and XML when all I really wanted was software that respected my original, thoughtfully constructed Word document. I tried to use [another product] and it was horrifyingly hard. And when I asked the developer to see about finding a way to respect the styles and style names from my word document I was told it was impossible. Jutoh shows it is not impossible. This is the experience I was hoping for."
Mark Cashman
"Best eBook creation tool on the market, hands down! I've tried the rest and this is by far the best! It gives you complete control over production and creates the professional looking results we are all looking for. In addition, the customer service I experienced was unparalleled. The developers are courteous, confident, and knowledgeable. I highly recommend purchasing this product without hesitation as it delivers the promise the other programs cannot!"
Jack Kinsley, author of CLUB MEDicine
"Congratulations for this powerful software. I have checked out so many tools and services for ebook creation/generation the last months... it was a hell of a ride and now with Jutoh I have a super-easy yet technically deep tool with all the options and freedom I need to create great ebooks. This is how software should work! Five Stars!!"
Sven
"You do great work! It's been a while, but I just wanted to say it. Your products are better developed, more complex, better supported, and better delivered than much larger companies. I just installed it for Linux Mint, and it was simple and easy."
Brian Hanley
"I finally decided what the heck and downloaded Jutoh. I played with it for a day, then, pleased with the way that went, I bought it. And I LOVE it. I intend to reformat all my books using Jutoh, since for the first time, it has enabled me to produce an EPUB file with no errors... I've struggled with Calibre and Sigil for this. Now I have a simple solution. I'm finding Jutoh very intuitive to use. Now that may be in part because I've learned so much in my Word battles, but I don't think that's the entire answer. I think it may be more due to intelligent design. The learning curve for me, at least, was relatively easy. As I've worked with it, I'm finding more and more things about it to love. At first, I uploaded a book, did the compile, looked at the errors, and then went back to Word to fix them. But as I'm continuing to work with it, I'm quickly learning how to correct issues within Jutoh and how to use other features as well."
Ann Warner (72)
"I am extremely pleased to have bought Jutoh to use to create my ebook. I don't know how authors survived before this. There is a learning curve for this software if you want to produce a high quality product, but creator Julian Smart is right there with you if you need help every step of the way. In fact, his reputation for speedy customer service was why I bought this product. And I have not been disappointed. Julian provides the fastest customer service of any product I think I have ever bought and his explanations were concise and clear enough even for a tech-challenged writer like myself to follow. Thoroughly satisfied. Recommended."
Ben Starling
"Thank you so much for all your help. I really appreciate your fast, personal service. I absolutely love Jutoh and recommend it whenever I can. It makes formatting so easy. Thanks for providing such a great product."
Lisa Nowak
"Jutoh handles large, picture-heavy ODTs very well - thank you for developing such a fast tool."
Jacek Szymczyk
"The book was written using a tool called Jutoh. Besides enabling us to publish to many platforms from a single tool, they exhibit the kind of agility and listening to customers that this book is all about. They are amazingly responsive - how about finding a solution to a defect by getting an updated version of their product to us within 7 hours! How cool is that? So here's a shameless plug for a great tool, an even better company, and one cool dude - Dr. Julian Smart!"
Lawrence Cooper, in the Acknowledgements section of "Agile Value Delivery: Beyond the Numbers"
"I have been working with Jutoh today and I really accomplished a lot in a short space of time. I can already see I made a wise choice in choosing your program, it is a pleasure to use and a pleasure to learn! You have done a very thorough job creating such a wonderful tool, it must be the best out there and I have dabbled in a few of them. I appreciate that you have made it so intuitive to use and I might end up just playing around with it for fun even when I don't have a real authoring reason to use it! Thanks again."
Peter Stallard
"I'm an ebook cover designer who wanted to branch out into formatting. My sister sent me a manuscript to experiment with and I was struggling with Calibre. It seemed like I had to know HTML, and I was about to give up. Someone on a forum recommended a program called Jutoh. It sounded like the answer to my struggles. It was only $39, so really a no-brainer. I've been extremely happy with Jutoh. Authors are pleasantly surprised at how quickly their manuscripts gets turned into ebooks. I feel like I have a secret weapon at my disposal. The support for Jutoh is amazing. The user manual is extremely thorough. But most impressive is the support given by the author of the program, Julian Smart. He answers my emails very quickly. I don't worry that I'll be left hanging for days or weeks, not knowing how to solve some issue. I don't have many issues come up, but if I do, they get solved. You can't go wrong with Jutoh. I highly recommend it without reservation."
Karen Ronan, coversbykaren.com
"Wanted to say thank you so much for creating the software - like many others I was tearing my hair out trying to get my projects properly formatted - it has been an absolute Godsend!"
Sam C.
"I've just bought Jutoh after trying it awhile, and I think it's a masterpiece of software engineering (speaking as a software developer with two degrees in computer science and 29 years of experience)."
Hal Fulton
"First of all, can I say I love Jutoh! We have a small publishing house, and had all sorts of problems getting our ebooks into Kindle without errors until I found you."
Claire S.
"...So far it's the only program I've used to convert an error-free eBook. All other programs and also the freeware programs are much more complicated and cumbersome. And what is important, the service is lightning, rocket fast!! I sent an error message to the hotline at 10pm!! I received a qualified response (incredibly) 10 minutes later! I tried it right away! Had more errors. At 10:30 p.m. and at 11:15 p.m. I got another tip from Julian! And then it worked!
Kurt Kessler
"Good experience trying out Jutoh. Produced very nice versions of my book for KDP, Smashwords, Nook. Good tech support too. #recommended"
Vik Rubenfeld, Los Angeles, USA (creator of the TV show "Early Edition")
"I'm in awe of what you have accomplished in the software and the support docs. Congrats."
Bruce Dickson
"After trying it out for probably a bit too long, I recently bought a licence for Jutoh 2.11 and I think it's marvellous. Not only that; it's incredible value for money. Having seen what it can do, it struck me how aptly named you are as its creator."
Mark Binner
"Jutoh is the best ebook creation tool available. I know for sure because I have tried virtually all of them over the years. Jutoh takes the drama out of making high quality Mobi/KF8/Epub files, and product support is excellent."
Don Hughes, www.BookPublishingMentor.com
"One of the slickest, easiest, and best programs I've found to help me with creating ebooks is Jutoh. The BEST $39 I've invested in my indie publishing path thus far. It. Is. So. Easy. I highly recommend this program to anyone who wants to create ebooks. Hands down, this made the process so, so much easier. And with beautiful results. I could easily add in images and get the ebook to look exactly the way I wanted. It automatically checks the file for errors and takes less than a minute to covert the file to an ebook. Easy peasy. And if I can do it, anyone can. Seriously. Anyone. Jutoh is pure awesomeness for creating different ebook formats."
Rebecca Talley
"At the risk of being blasphemous, I will say that Jutoh is close to being the Holy Grail of self-publishing. It is the best of both worlds, combining the versatility and sophistication of more expensive word processors and editors with the ease-of-use of cheaper ones. If Jutoh was just a word processor, it would easily be worth the price, but this baby also compiles for e-books (in multiple configurations, too). To top it all off, the customer service is amazing."
Alan Galpert 2014, Virginia, author of The Colossal COLUMBO Quiz Book
"Just wanted to drop you a quick note and thank you for the fantastic Jutoh software. I bought my copy and am very glad I did. It works seemlessly on my Mac and is much better than anticipated. I needed to design an ebook from an existing iBook format and was amazed at the ease of use and very friendly interface. Now my book will be available in many formats, not just limited to the iBooks store. Thanks again for a wonderful product."
Jeff Thompson
"I finally published my book. I just wanted to pass on to you one of the reviewer comments: 'The Kindle edition is one of the best formatted I have yet come across. Everything is well linked from the table of contents to the index. Navigation was a snap. There was also an expanded table of contents (also linked) that was very useful.' That reviewer is a "top 1000" reviewer, so he has probably read a lot of Kindle books. Your Jotuh program was really amazing once I learned how to do everything. You have a really awesome program there. Thanks a bunch!"
Kris
"I just wanted to share something that I found to be exciting. I just imported that DOCX file to Jutoh, preparing to go through some CSS manipulation as you explained in your email previously sent today. However, I am shocked and amazed that, upon creation of the new project with Jutoh styles overriding document styles, it imported perfectly, without issue and has created a significant reduction in my workload. I didn't need to mess with a thing (at least in regards to line break/CSS corrections)! I am amazed, thank you again for such a wonderful (and immensely powerful) piece of software, it is the only way I could handle these projects I work on."
Jason R.
"What a BRILLIANT piece of software. Congratulations. And thank you. At the end of one day I successfully created a very good looking 160 page eBook in ePub and Mobi formats."
Roy Sheppard
"I've been working with Jutoh for a while now. I'm not a patient person, so I tend to jump in with both feet and only when needed do I start trying to find answers to problems or to satisfy a need. I soon discovered that I could accomplish a surprisingly good result with Jutoh with very little understanding! Of course, I've now progressed beyond the simple. That really happened when I wanted to 'prettify' manuscripts and especially when I came to publishing my first actual ebook. I still have much to learn, naturally, but having discovered the power that Jutoh is capable of providing, I can only say that I am immensely impressed! The program is phenomenal, and when coupled with the ebook Creating Great Ebooks Using Jutoh by Julian Smart it becomes a tool that I honestly think all authors need. I can only say a huge 'Thank you' for this phenomenal product!"
Steve Smy
"Jutoh allows me to use exactly the same interface no matter what operating system I happen to be using and has loads of features, including being able to keep all research notes in a scrap file within the writing project. The ebook conversion tools work flawlessly. I was able to do conversions to epub and mobi formats and save them to the cloud and then preview them using the free Kindle and Nook apps available on my Samsung Galaxy Tablet. I was able to paste the progress I had made using Microsoft Word into the new program with ease and my writing productivity increased immediately. The best part was the software only cost $39.00 and I could download a demo before purchasing the complete software. Any questions I had concerning the software were promptly answered via email by Dr Julian Smart and the answers were always spot on."
William L. Inman Full testimonial here
"We have used Jutoh since July 2010 and found it an excellent product for producing professional quality ebooks. It's easy to use and flexible too. The support team are quick to respond to questions and suggestions and are very knowledgeable of their product. We consider Jutoh an excellent strategic decision and readily recommend it to anyone in the ebook business."
Lyndon Smith - Director, Infomedia UK Ltd
"I was wanting to publish some of my writings in digital format. I had no idea at all where to start. The programs for composing eBooks were either very expensive or skimpy. An online review led me to Jutoh. I cannot believe that I now have writings in the Kindle store and PDF and epub formatted writings in my web store. I see my own writings on my iPhone! As an amateur, I had a number of questions. Julian answered each one, patiently and respectfully. I am grateful to have found Jutoh! Thank you Julian."
Thomas Hersh, Ph.D., Clinical Psychology, Newfane, Vermont, USA
"I just wanted to drop you a line and let you know how much I continue to enjoy using Jutoh, it has actually helped me to start a small publishing company. I'm grateful for Jutoh whenever I'm working on an ebook, which is most days now. Having this has been a life changer for me. I'm a Linux user, and I appreciate (very very much) that you have Linux packages for your software."
Adam T., Taiwan
"Jutoh is one of the best kept secrets of the e-publishing world. I am writing my biography for my family and after searching and trying many other poor, limited and flawed software offerings I found Jutoh Wow! What a difference!"
Tom and Di, Canada
"I just want to say Jutoh has made an immense difference to my life. Being able to produce error free eBooks is something I only dreamt about in the past. I compile anything from 1 to 5 eBooks a week. Some full length novels or anthologies and with those it's great to be able to tweak the formatting to get a result as near to the original PDF and print copy. Thank you."
Dalia, Scotland
"I just wanted you to know I purchased Jutoh. I had been struggling for weeks trying to sort through the mass of (mis)information out there on how to produce ebooks. I transferred it all into Jutoh and wow, that same day it was submitted to Amazon, and approved within hours. Since then I have added another book, and honestly, I can't believe how straightforward the process has been. I'm very happy with my investment, and wish I'd found it sooner! If I can use Jutoh, anyone can. (I'm neither young nor a techie.) It's a great program, and kudos to you and your team for a fine job. I will not hesitate to recommend your product. You have made my life a lot easier, so thank you, thank you, thank you!"
Shirlene, Canada
"BTW, I just have to add that I can't appreciate Jutoh enough - I just don't know any other editor, cheap or expensive, that gives me the functions I need and are offered."
Mo
"As someone who has been in software development since 1966 and spent 25+ years running a software company, I have to say that your support is probably the best I've ever come across!"
Mike, UK
"Jutoh is a marvelous cross-platform ebook authoring tool I couldn't have done without. I was able to write my book in MS-word, and Jutoh can clean up the junk in docx files very nicely. Jutoh told me how to make my covers, generates cross platform and faithfully reproduces all the hypertext in my book. For a non-fiction author, Jutoh is a must have so that you can be sure to get your final product just right. Doing that takes many iterations of re-importing the MS-Word file and Jutoh handles it beautifully. I had far more trouble with my citation manager software than with Jutoh. This is an amazingly sophisticated piece of software that supports any conceivable output format. And now that Smashwords is going to allow authors to submit their own files for each ebook format, this is something that every ebook author should have. I really can't say enough about Jutoh as an authoring tool. Seriously, this product saved my bacon. I don't know how much more time it would have taken without it, but it would have taken at least another 3 to 6 months. If this authoring tool was the same price as EndNote, which costs €238, it would be a steal. At its current price, it's a phenomenal value."
Brian Hanley, Canada, author, "Radiation - Exposure and its treatment: A modern handbook"
"I think your software is of such great value for money that I had to have the most advanced version!"
Steve F., Spain
"When I realized halfway through the writing of my book that I wanted to publish it digitally rather than in print, I spent several frustrating days trying out software that promised to convert the word processor file into Epub and Mobi format. Nothing came close to being satisfactory, and I turned my attention to ebook authoring tools. Again, there was frustration, but then I discovered this amazing, inexpensive, well-supported program. Jutoh quickly dispelled my fears that I would miss the flexibility of my old word processor. Everything I needed for ebook publishing is here: styles, images, search and replace, table of contents, and indexing. I used all of it, creating a comprehensive nonfiction book about my topic with the equivalent of over 500 letter-size pages, four levels of headings, around 180 cited references, and nearly 1400 index entries. And you know what? When I imported the final product back into my word processor, it looked great! I can't recommend Jutoh highly enough. It worked wonderfully for this huge book of mine, and so it will almost certainly work for yours."
Edwin A. Suominen, author, "Examination of the Pearl"
"I've been using Jutoh since mid-summer, and I just want to say that it is an astoundingly well-designed, reliable, and flat-out useful tool. I've used both the Windows and Linux versions (depending on what partition of my computer I'm working in) and I recommend it to anyone looking to create an epub or mobi eBook."
Christopher
"Jutoh not only lets me convert and create ebooks myself, the new Jutoh ebook explains everything about ebook creation and design. Which saves you 50 bucks an hour or more for paying for design and layout help. My Kindle and Nook versions are almost finished thanks to Jutoh."
Timothy
"I'd hate to try and produce an EPUB book and get all this right without Jutoh."
Terry R.-K., UK
"I downloaded the most recent version and purchased it earlier today. I have to say I LOVE this program - it is so much easier to use than Sigil, and produces very nice looking e-Books. I was able to produce a perfect e-Pub (with 1400 hyperlinks, bookmarks, and internal links) from an HTML file created with Word, in less than 2 hours. Previously this took me a week with Sigil... Thanks again for this EXCELLENT tool. I cannot tell you how happy I am to have it!"
Gerald
"Jutoh is a remarkable program. In a complex field it offers a simple-to-use interface with generous options and faultless performance. It accepts a wide variety of input files and can create MOBI, EPUB and other standard ebook formats. It compiles and checks projects and links to preview software. It also allows for extensive metadata entry. All this in a neat and tidy presentation. When the only other options seemed to be an expensive and unnecessary outlay on something like Adobe In-Design, this came out of the blue and has answered all our prayers. I love it."
Ellis Delmonte, Hawkwood Books, Lincoln
"I just wanted to say your software is bloody genius. The Smashwords conversion went brilliantly... Jutoh has been a God-send and the learning curve will really pay off in the future. Having come across many many forums where new digital authors are having a painful birth in converting to the digital platform, Jutoh is something that many of them don't know about. Your software will make a difference. My book is now live on the Amazon and Smashword sites. It reaches Apple in two weeks. Your software helped make that happen."
Will B.
"I am grateful that I discovered Jutoh. It took me some time to format the first book, mainly because I had to learn how to use named styles in Open Office writer, but now I am confident in the ebook creation process. Tech support was awesome. I am thrilled with Jutoh and recommend it highly."
Anne Alexander
"Jutoh is way ahead of any of the ebook editors - and I have tried a number of them, even Adobe's InDesign."
Dan R.
"Just used your excellent product to create two Kindle e-books... the Jutoh-exported .mobi files went straight into Amazon without any problems. You've made it so easy, you might convert me from my PDF bias!"
Jon
"I just wanted to write and thank you a thousand times over for coming up with Jutoh... I can't begin to tell you how much simpler it has made my life. Create once and send out everywhere in all formats is a Godsend, and I have been able to supplement my own titles with those of others, through my publishing company. I learned a lot about proper formatting for eBooks, taking into consideration the various formats, from ePub to ODT and even plain text. I dreaded the thought of manually going through each one, only to have to wade through the inevitable feedback, in order to fix everything by trial and error. In a single evening, I was able to submit to both B&N and Smashwords, with flying colors, no less! Thank you for putting such a wonderful product together."
Dallas T.
"Thanks again for all the help. Jutoh is by far the best epublishing tool I've used so far!"
Blaise M.
"Problem: A large file with many mathematical symbols that had to be inserted as .png images. Mobipocket produced the images as black squares, Calibre seemingly did not have the memory allocated. My solution: If anyone wants to try this sort of publication, the only compiler that worked for me was Jutoh. I suggest you flatten the images and do not convert .png to .jpg"
Ian M.
"I just wanted to take a few moments and send a quick hello and say thank you again. I am one of your paying, registered users. I have no idea how many of those you may have, but I must say that you may be the best customer service I regularly encounter. You are always receptive, always quick to implement and always gracious in your correspondence. It has been a pleasure to do business with you and your product just keeps getting better. You are, from a customer service standpoint, a model that every business should emulate."
Jay
"I felt I should send you another thank you for the help and support you offered me. Your program is just what I have been looking for. I am totally happy with the results. I will be telling anyone I come across who needs electronic book software about Jutoh. This is a winner!"
David M. White
"I bought Jutoh because I was struggling to get my manuscript into epub format. What a delight! As soon as I got comfortable with the user interface (which took about 5 minutes) I was formatting my novel, Tag, immediately. I subsequently uploaded it to Mobilereads which has a pretty strong ereader backing (it was they who insisted I move off pdf), and received nothing but good comments about the format of the book."
Simon G. Royle, www.simon-royle.com
"Simply put, Jutoh is the best conversion tool out there. The user interface is very friendly, there are many extras built-in, and the documentation is thorough. Jutoh can take a very large book with many images and successfully convert to multiple ebook formats that pass the epub validation checks. Anyone who has a book in MS Word can save it to OpenOffice (which is free, and has a built-in PDF capability amongst other features) and import it to Jutoh. I have found the Jutoh developer to be extremely accessible, responsive and eager to receive feedback. This is a high-end, professional piece of software that is practically a give-away!"
Kathy M.
"I wanted to thank you so much for the Jutoh tool! It's been wonderful! I was so pleased with how it worked in creating a mobipocket Kindle edition of a book I've been writing."
Joshua D.
"Thank you for another quick, thorough response! Your customer service is amazing."
Kristine K.
"I appreciate the quick turn around on providing a fix for the problem and am pleased that I selected Jutoh as it is always good to know that there is someone prepared to stand behind their program and react when there is a problem."
Neil P.
"Great product, my only real comment is that it is underpriced, bet you don't hear that too often."
Brian W.
"I really like the app, has been very simple and pleasant to use so far."
Brian S.
"Thanks for your initial help, the swiftness of your responses was one reason why I subsequently purchased Jutoh."
Iain M.
"Great piece of software... Just finished another book using the 1.07 software, worked very well and passed the validation process no issues."
Glenn O.
"It works like a charm."
Karin S.
"Just wanted to say thanks again for helping and I just registered it. The epubs look great!"
Doran S.
"I am really impressed that you have captured a pretty organic work flow that the 'majors' (Adobe) can't comprehend. Great job!"
Rick
Reviews and Appearances

"We hit the Google trail in search of e-book enlightenment. If it wasn't for Jutoh, we'd still be in the dark." -- Australian Financial Review, July 27th, 2010 ("Jutoh writes a new chapter in the manual of e-publishing")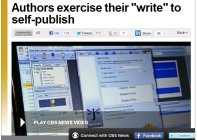 CBS's Sunday Morning programme did a piece on self-publishing on 9th December 2012, called Authors Exercise Their 'Write' To Self-Publish. At 1 minute 25s there are some shots of Jutoh helping the best-selling novelist Stephanie Bond convert her books to Kindle format.
The Target Internet web site has an entertaining podcast about publishing Kindle books, How to Self-Publish With Amazon, with an honourable mention of Jutoh as the tool that helped to banish their ebook frustrations. "It's good. Very good... the best $30 I've spent."
Jutoh review by tekcompare - "It exceeds expectations. For a one-time license fee, you get reliable multi-platform software. The Jutoh software is all you'll need to refine your project."